We will celebrate 14th Pratishta Dinam at Ambalavattam Durga Devi Temple, Thalassery on 28 March. We had announced this earlier on our temple website and in social media. The detailed programme is now available and you can see it below. We have the agenda in English as well as Malayalam, for the sake of family members who cannot read Malayalam.
Schedule for 27 March at Ambalavattam Temple
As is customary, we will conduct Saktheya Pooja and Akathu Vachu Kodukkal  at Ambalavattam Temple on 27 March. The pooja willcommence at 6:00 pm and will conclude with Athazha Pooja.
Programme for 28 March at the Temple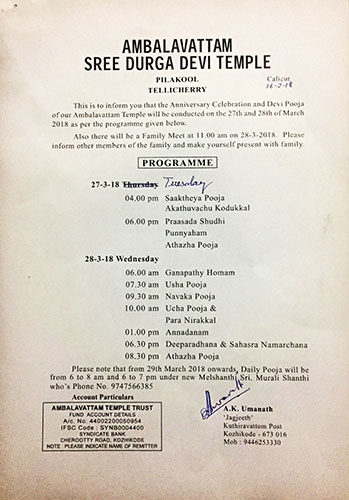 On 28 March, nada thurakkal at the temple will be at 5:30 am. After that, Ganapathy Homam will begin at 6:30 am. Later at 7:30 am, we can witness Usha Pooja.
Next on the agenda are Navaka Pooja at 9:30 and Usha Pooja at 10:00 am. Family members and devotees can partake in Annadanam at temple premises at 1;00 pm.
Please also note that there will be a family meeting at 11:00 am.
In the evening, nada thurakkal is at 5:30 pm. You can watch Deeparadhana at 6:30 pm. Later devotees can enjoy a performance of Thayambaka. Finally, Athazha Pooja will be observed at 8;00 pm.
Invitation to Visit Ambalavattam Durga Devi Temple
We invite family members and devotees to visit Ambalavattam Durga Devi Temple in Thalassery and partake in the celebrations. Young members of Ambalavattam family should make a note of the dates so that thay can be present on the occasion.
If you will like to get more details, use the Contact Form to get in touch with us.