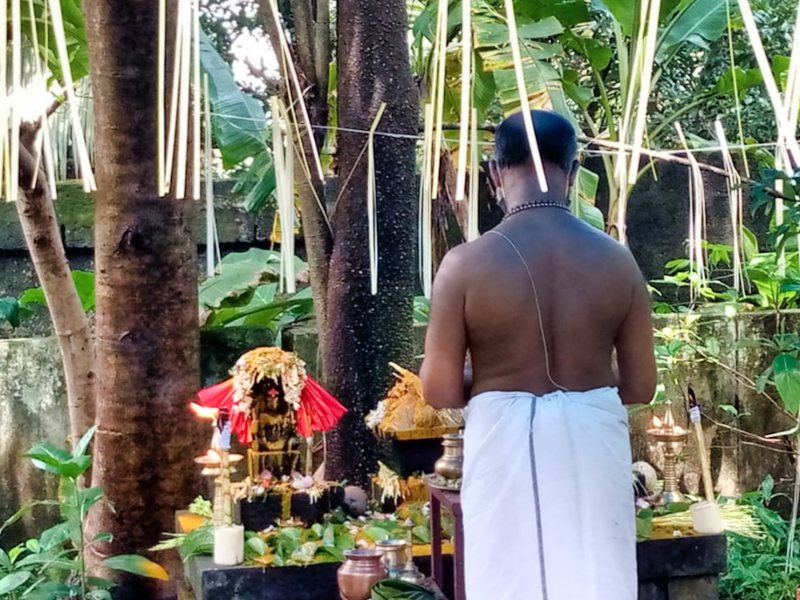 Naga Pooja 2020 was conducted at Ambalavattam Temple, Thalassery on 15 September 2020. This corresponds to Ayilyam nakshatram on 30 Chingam of the Malayalam calendar. We observed the restrictions related to the Covid 19 pandemic. Family members and people from neighbourhood attended the Naga Pooja which we celebrate every year.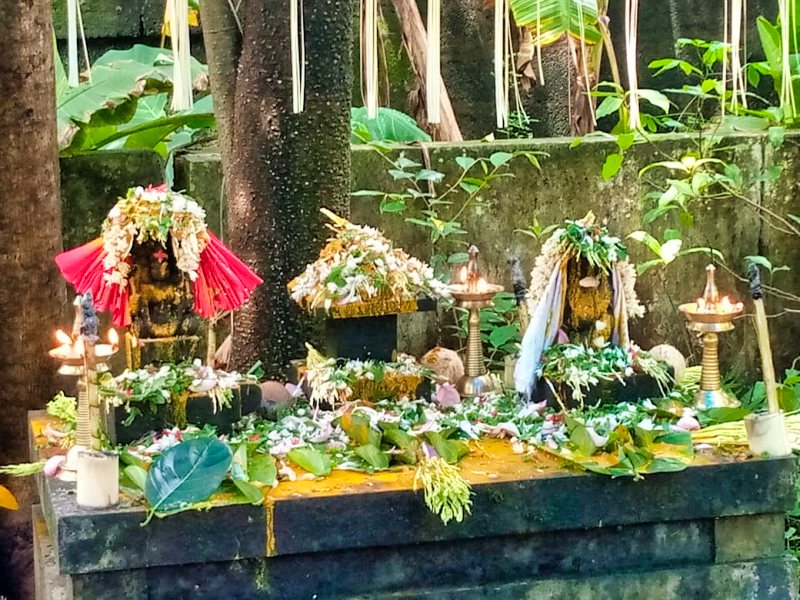 Pooja Ceremonies at Naga Pooja 2020
Sri Thirumangalath Satheeshan Namboothiri conducted the pooja,  as in the previous year. The pooja for Noorum Palum began  at 8:00 am and ended at 12:30 pm. Every year, we perform Noorum Palum at Ambalavattam Temple. We offer the pooja to Nagaraja and Naga Yakshi to keep off  Sarpa Dosham and Rahu Dosham. The belief is that by offering Noorum Palum to Nagas, we get their blessings to ensure the well-being of all family members. The main ritual consists of bathing the deities with milk mixed with rice powder. Afterwards, the deities get a shower of turmeric powder.
Later there was Ganapathi homam and Devi pooja. Everyone got the prasadam.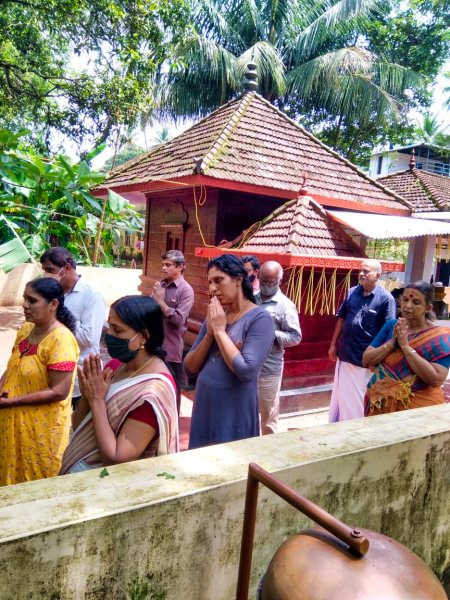 Legend Behind Noorum Palum
The legend goes that Lord Vishnu had treated the burns of snakes using a mixture of tender coconut water, turmeric powder and arecanut flowers. The mixture is known as Noor. The snakes recovered fully after the treatment. This took place on the day of the Ayilyam nakshatram. The star is therefore preferred for the worship of the Naga devas.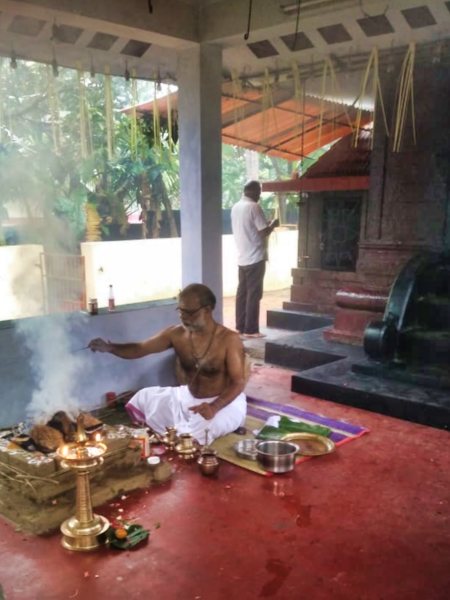 Covid 19 Pandemic and Naga Pooja 2020
Government has removed the lockdown in the state due to Covid 19. However there are still restrictions in several places. Besides public transport is not fully functional. Restaurants and hotels have not opened. Consequently most family members were not able to travel to Thalassery for Naga Pooja 2020 on 15 September.
Acknowledgements
Babuattan and Nisha Umanath merit a round of applause for travelling to Thalassery from Kozhikode.
All the family members who made generous contributions  this year deserve sincere thanks.
Special appreciation is also due to the persons who gave the photos and video in this post. By the way, you will be able to watch the video also on YouTube in full screen.
If you liked the post, you could…
Subscribe to the free and informative e-newsletter.